Matthieu Lacombe is a young Halo fan who was diagnosed several years ago with "rabdomeosarcomsa" a type of cancer that grows on muscle tissues. Over the years he has had several tumours removed, most notably large ones from one of his ears and another "football sized" one from a kidney.
Early in 2011 the Halo costuming community, coordinated at their internet home site " http://www.405th.com ", decided to build a full scale costume of Matthieu's on-line Halo character. As the project is drawing to a conclusion in early April, Matthieu was admitted to the Isaac Walton Killam Children's Hospital in Halifax, Canada. The prognosis is not good.
I happen to live about a ½ hour drive from the hospital. I was able to get his mother's contact information through the 405th.com. I e-mailed her and asked if she would allow me the privledge of visiting Matthieu before he goes. She got back to me saying I was very welcome to come and asked if I could do it that night. I forwarded her my phone number and we had a talk on the phone. It became apparent that I would need to do this quickly. She cleared it through the hospital administration who authorized security to let me in after regular "open" visiting hours.
The hospital is about a 1/2 hour drive from my home. When talking to Mat's Mom, I had intended to get into costume at home and have my wife drive me over in her car. However, my daughter's car is broken down and my wife had let her use her car to go to work. My wife can't drive my car because it has a manual transmission. So, I quickly showered, dressed in my undersuit and put some warmer clothes over that as the evening temperature was dipping near the freezing mark. Then I put all the costume stuff into my car and my wife and I headed off.
On arrival at the hospital, my wife quickly checked with security to make sure everything was on track, they were extremely friendly and supportive. I parked the car in the hospital's parking tower and unloaded the costume into an empty parking spot next to where I had parked. My wife helped me get suited up, and we almost caused at least 3 accidents in the tower as people slowed to try and determine what I was doing! I was also pretty chilled by the end.
On the walk between the tower and the hospital, two teenaged boys chased us yelling "Master Chief! Master Chief! That's so awesome!"
Security led us through the hospital to Mats room. In the hallway, we met his Mom, Aunt and Grandmother. I cannot describe how wonderful these people are in this time of personal crisis. They were positively gleeful that Mat was going to meet the "Master Chief" and get some idea of how his costume might look.
We waited quite a while in the hallway because Mat was involved in some personal treatments that couldn't be interrupted. Many of the hospital staff came along and we had an impromptu photo sessions with Mat's family and the doctors, nurses and other staff.
When I was able to get in to see Mat, it was a moment I won't forget. I played the "Master Chief" and demanded at the door that the staff let me in to see "My wounded Spartan". For the next ½ hour or so I don't really remember what we talked about, but we smiled and laughed and there were many pictures taken.
There is a white board in his room and he's had written on it "Spartans Never Die". I signed the Master Chief's name on it.
I gave him a Halo Reach figure and told him the guys at the 405th are working hard on his costume and are sending the figure to represent the team's dedication to finishing the final product.
We talked a lot about his costume. The specific details of it and I described some of the techniques being used to make it.
He has a tatoo that says "Spartans Never Die", I had pictures taken with that.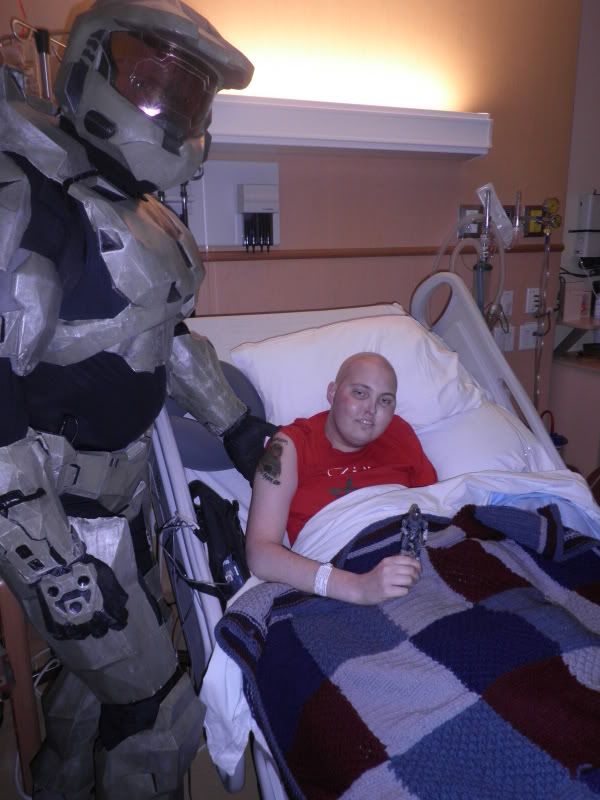 Eventually it was apparent that his exhaustion was catching up with him and I decided I should go. There were hugs and smiles all around and security came and collected me and they gave me a free parking voucher. They also showed us how to get to the parking tower without having to go outside.
I had to get unsuited in the parking garage and again almost caused a couple of accidents. I didn't pack it up particularly neatly either as I was getting cold quickly after being a bit too warm in the hospital. My wife made me stop on the way home and she picked up my favourite junk food treat.
An awesome evening. Visiting Matthieu was among the most emotional evenings in my life. The positive energy radiating from him and his family is indescribable. All the time and expense, cut and burned fingers, restarts and rebuilds, and sometimes just plain frustraion with creating this costume was worth that ½ hour.
There is an annual Sci-Fi and Fantasy convention in town in the fall called Hal-Con and his Mom and I plan on 'trooping' at the event. If Mat is unable, she will wear the costume the folks at 405th.com are building for him.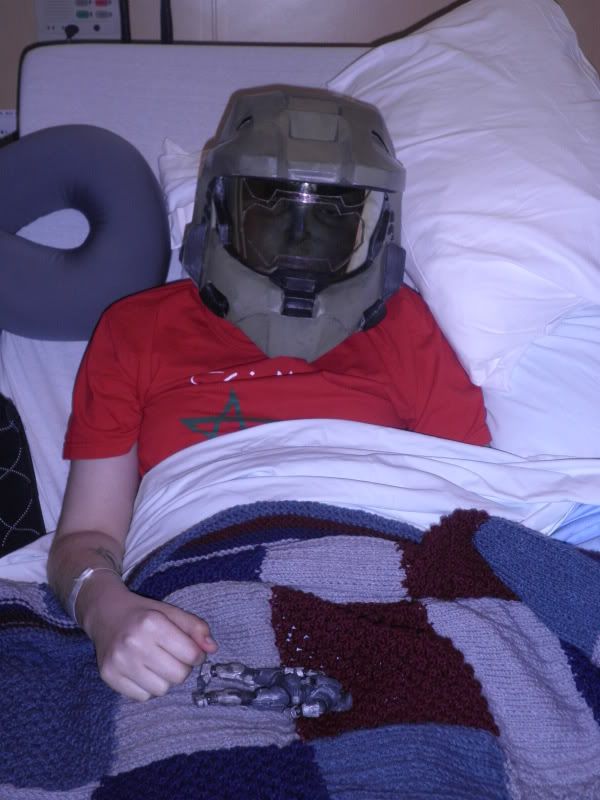 Post Script: Matthieu passed away the day after I visited him. Rest in Peace Spartan, you were an inspiration.